3120 Latrobe Dr. #260
Smartech - Optimizing 3D Lamination and Finishing operations.
Smartech's roots in the woodworking industry go back over 20 years. We specialize in parts and equipment to optimize 3D Lamination and Finishing operations. The industry's most prominent names as well as the smallest shops know that service comes first at Smartech, and they can rely on receiving our VIP treatment every time they call.
Smartech is the North American partner of Steinbach Membranes (or diaphragms, bladders, blankets, or whatever you prefer to call them) for 3D Lamination on membrane presses and vacuum formers.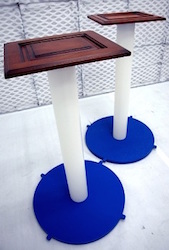 Smartech developed their Pressroom Tools to eliminate common hassles in 3D Lamination and finishing. They offer great time-saving solutions for everyday headaches, and they're affordable too!
The Easy|Axis Turntable is all HDPE for easy clean-up.
The small footprint of the Versa|Trim is ideal for cutting out mullion doors and other complex profiles.
The Steady|Mix easily mixes 2part adhesives and finishes for optimal performance.
The Dura|Rack holds both small and large parts securely while adhesive or finish needs to dry.

Smartech's custom-built Roll Racks were designed specifically to store and cut 3DL. Both our motorized and manually revolving racks are in use coast to coast.
Let Smartech's expertise and superior products help improve your quality, productivity, and bottom line. Check out the wide range we have to offer – and feel free to contact us for solid advice in determining exactly which membrane material, pressroom tool or roll storage rack will work best for your application.

For additional information click here. You can also download our brochure on 3D Lamination and Finishing Solutions by following the download link below.
Download 3D Lamination & Finishing Solutions