Pollmeier Inc.
10200 S.W. Greenburg Rd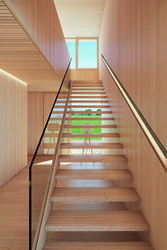 Pollmeier Inc. – The perfect hardwood for any application
Pollmeier is the largest producer of European Beech (fagus sylvatica), with 3 state of the art sawmills in Germany. We produce nearly 300 million board feet annually, of KD lightly steamed Beech lumber in ¾ through 12/4 thicknesses. Our value added proprietary grading system allows you to pick the right grade for the right application, increasing yield and throughput. European Beech also offers tremendous flexibility in finishing, excellent durability, and is one of the most sustainable species on the planet.
We can offer fixed length on 1' increments, color sorted lumber, random width, sorted to width, and ripped to width lumber, that ultimately increases your profitability and bottom line. We produce both PEFC certified lumber.
Our new award-winning BauBuche LVL (laminated veneer lumber) product can be used from structural beams to furniture, countertops, cabinets, and millwork applications. Read more about BauBuche here.
Check out more about European Beech and Pollmeier, and all of our products here.
Also download our Brochure on Beech Grading.
For additional product information please follow this link: www.pollmeier.com.

Videos:

Use more wood to tackle climate change
Wood - Natures Stroke of Genius

Why on earth a wooden house?
CONTACTS:
Tim Wooley: tim@pollmeierusa.com

Thomas Owens: thomas@pollmeierusa.com

Tony Butterfield: tony@pollmeierusa.com

Randy@pollmeierusa.com

Download