90 Snow Blvd.
As a world leading manufacturer and supplier of furniture fittings, Hettich offers over 10,000 quality products to the furniture industry worldwide, for the production of kitchen cabinets and vanities, residential and office furniture, and specialty millwork projects.
Innovations for every furniture segment
We create the perfect combination of intelligent technology, functionality and design. Priding ourselves on this, we develop and produce a vast range of fittings – from drawer and runner systems to hinges, organizational solutions; decorative handles as well as, folding and sliding-door hardware.
View the entire product offering here: Hettich Products.

Hettich is known worldwide for its guaranteed reliability, advanced design and exacting standards.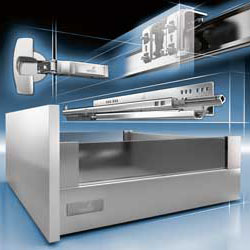 The Hettich Brand

The company has evolved into a diversified company group operating mainly in the furniture / kitchen sector. Hallmarks of the Hettich brand are quality, innovation and customer orientation.
We meticulously work on products that you often can't see – once they are fitted in furniture, noticeable though in the job they do, because our hardware solutions bring movement, safety and convenience to furniture, continuing to do so after years of use.
The secret: awareness of quality, joy of innovating, constant dialogue with our customers and reliability. Our staff, act in line with these values, something that doesn't go unnoticed. The result: thrilled furniture owners.
Good furniture needs good solutions – for the home, working world and quality of life.
Click here to open our Catalogue Browser.